Red Rum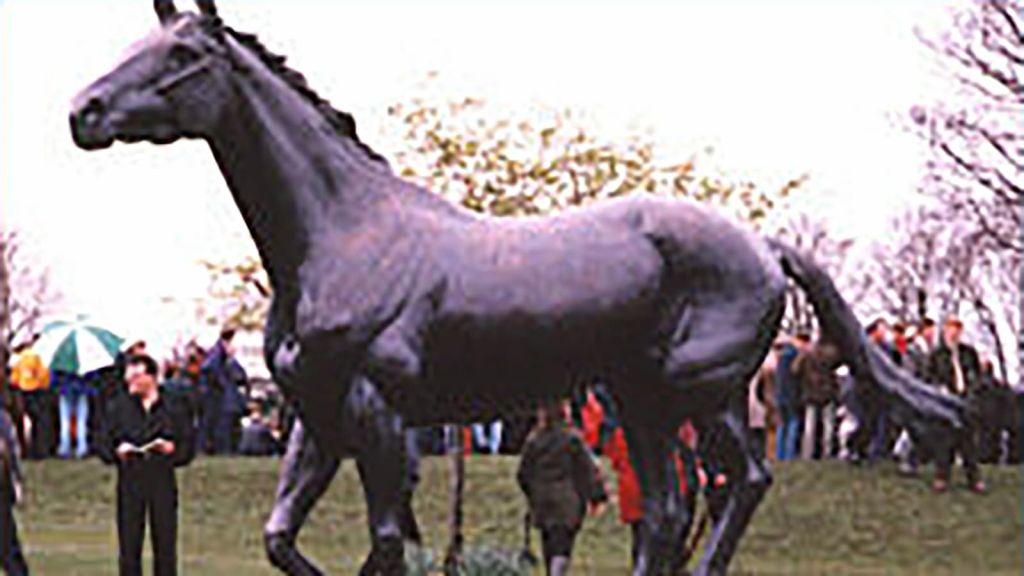 Red Rum is the only horse in the history of the Grand National to win the race three times and on the two occasions that he ran and did not win he came second. His race record is good under both flat and National hunt rules. When he was put up for sale in his country of birth both he, and his companion that day were sold for 400 guineas each at the sales in Dublin.
It is a great coincidence that the first race that Red Rum raced in, was at, what was to become his favourite course, Liverpool. On this first occasion he dead headed with Curlicue for first place. This was the companion horse that he was with at the sales! . This was a two year old's selling race run at a distance of 5 furlongs.
In total Red Rum ran at Liverpool seven times, he won four and came second in the other three.
In Red Rum's 10 year career he had twenty four different jockeys, Including Lester Piggott, he also had five trainers but in that career he managed to win 3 flat races, 3 hurdle races and also 21 Steeplechases. He was also placed 37 times so he must have taken all the changes in his stride. His obvious love of racing held him in good stead and it is worth saying that he never actually fell in a race although he once unseated his rider and once slipped up (another coincidence was that both of these were at Haydock) .
Red Rum, or Rummie as he was to be known suffered from foot problems and soon after Donald ( Ginger ) McCain got the horse he looked lame, however when he ran into the sea on a training gallop this seemed to help and this was the routine that Ginger kept him on and it stood him in good stead for the future.
The year of Rummies first win was 1973 and the account of his first win where he beat the big Australian horse Crisp is told on the Crisp page but needless to say that Rummy was 20 lengths or more adrift for most of the race and it was only his determination that kept him in the game and indeed allowed him to win his first National.
That day I'm sure that most of the talk would have been about the defeat of Crisp rather than the win of Red Rum but, 12 months later it wasRed Rum who was carrying the 12st burden and despite that he went on to win successive nationals and the public started a love affair with this chaser the like of which, is only given to a few.
In both 1975 and 1976 despite putting up a good defence of his crown Rummie was beaten on both occasions into second place. In 1975 he met the twice Gold Cup winner L'Escargot and had to give him 11lbs however he was still in front at the last, but the ground was very soft that day and Rummie hated the ground so the combination of giving weight and the soft ground he had to yield to L'Escargot. In 1976 he took on another good horse Rag Trade and having to carry top weight for the third successive year He was unable to give him the 12lbs and although never gave up and closed in on him up the straight he was again to come second
1977 Red Rum was 12 years old and was again entered in the great race. His season by now was mapped out to give him the best chance in the national. Not many 12 year olds win the race and some of the racing pundits thought that this might have been a case of going to the well once too often but his trainer Ginger knew that the horse was in great form and was sure that the horse would not only give a good account of himself but, that he would Win ! and he was to be proved correct. He was still having to carry top weight this year but at least the top weight had gone down to 11st 8lbs. Rummie actually had no problems this year and ran easily though out the race and took up the lead soon after Becher's and went on gaining ground and finished the race winning by a remarkable 25 lengths. He was now a national hero.
A minor ailment kept him out of the race the following year so was 1977 that to be his last appearance at his favourite Liverpool Well no not quite.
Rummie was entered in the following years National this at an age of fourteen was remarkable in it's self but an injury a short time before the race meant that he was not one of the runners that year, however Ginger thought seriously that he would win if he had got him there. The following year at 15 he was entered again and was due to run until a few days before the race when he was again found to be lame and the connections had to finally come to terms that ' The Nations Favourite ' would not have another race and he was retired. So although 1977 was Reds last appearance at Liverpool in the race, Red Rum led the parade in 1978 and continued to do so until the 1990's
So Red Rum did go to Liverpool that day in 1978 and led the parade and so began his second life in which he was to be one of the biggest celebrities of his day and always attracted a crowd at any opening ceremony that he attended indeed he even was to make an appearance on the BBC Sorts personality of the year award. He returned to Liverpool on many occasions to lead the parade right up until his death on October 18th 1995 at an age of 30.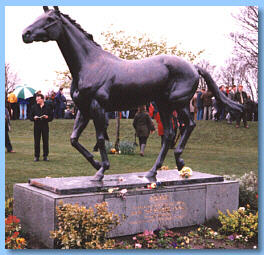 His place in the history of the Grand National and of the Liverpool course will never be forgot and his statue is to be found at the course. He was also given the honour of having his last resting place in one of his favourite places and today he lays buried with his head facing the winning post at the Aintree course. A memorial is also there for visitors to see and for then to remember one of Aintree's greatest, Red Rum.
Red Rum - Further Reading
To find out more about red rum we suggest the following sites;
Mischief Blue - a very personal and touching story about red rum.