How To Bet on The Grand National (online)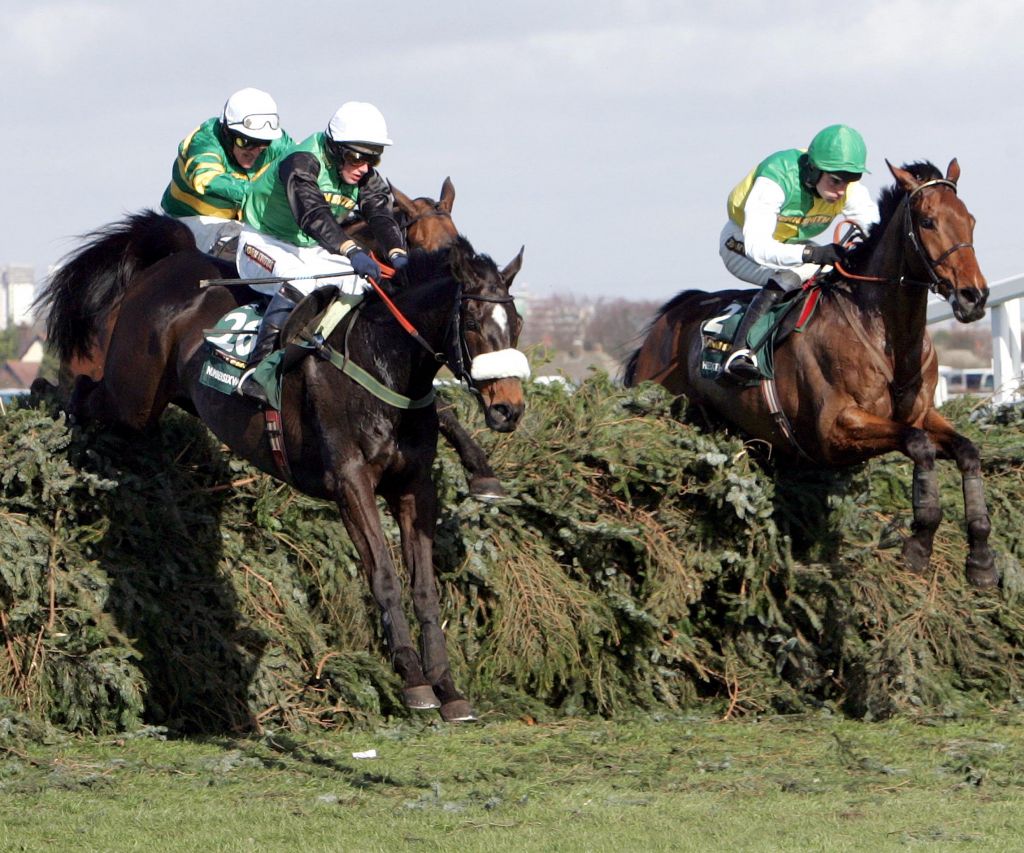 Regular Betting Shop Customers To Bet Online
Regular betting shop customers enjoy the social gathering and daily catch up with friends whilst picking out the day's best bets, a routine which has largely been shelved for the past year or so. With the cancellation of the Grand National in 2020, this year's renewal will be eagerly anticipated by both regular betting shop punters and the once a year grand national bettors.
However, placing Grand National bets this year may involve a cultural change for many die hard traditional betting shop regulars who are used to writing their Grand National fancies on a betting slip, handing them over the counter with their stakes and then hopefully coming back to collect their winnings when the National has finished.
Many punters and in particular the younger generation are already use to betting online for convenience as well as visiting the high street bookies, both methods go hand in glove however as already mentioned in recent times betting online has been the only option available to enjoy a daily flutter.
Trying something new especially when technology is involved may be a bit daunting for many however it need not be as placing a Grand National bet online has many benefits starting with being able to place your Grand National bets from the comfort of your own home and there is no need to make a trip to collect any winnings!
How To Bet on The Grand National Online
To place your Grand National bets online all you will need is:
A Device With Internet Access - Mobile Smartphone (Android/iphone), PC, Laptop, ipad, Tablet etc. Online Betting companies have a dedicated website (www.) and a mobile betting app for smartphone devices. Largely the mobile phone app will be a streamlined version of the website to accommodate the mobile phone formatting and ease of use.
An online bookie account - If you do not already own an online betting account, opening one is a simple process and legally you must be at least 18 years old. There are numerous online betting companies to choose from, many of which regular high street customers will be familiar with the likes of Ladbrokes, Coral, William Hill, Paddy Power and many more. Plus there are numerous reputable and well known online betting companies like bet365, Betway, BetVictor and many more who offer a wide range of betting opportunities and account opening promotions and 'Welcome Bonuses' for new online customers like deposit, place a bet and get free bets to use. We have a recommended list of grand national bookmakers here.
To deposit your betting stakes via a debit card - If you are opening a new online bookie account to place your Grand National bets online you will need to make a deposit using a bank debit card. This process is safe and secure and many online bookies will let you make a minimum deposit of £5. You do not have to stake your deposit amount on one Grand National bet, minimum stakes may vary from bookie to bookie but in most cases Grand National Bets can be placed with stakes less than £1 if required. Bookmaker sometimes offer a free bet on the national as an incentive to sign up.
Ready To Place Your Grand National Bets Online
So you have your device, online betting account and Grand National stakes deposited ready to place your Grand National bets online.
As the Grand National approaches the ante post Grand National betting market is a hive of daily activity and the latest Grand National odds will more than likely be very prominent on your bookies website home page and mobile app.
There may also be news on daily Grand National promotions like enhanced odds on particular Grand National runners and some bookies may have enhanced place terms for each way punters as we get closer to race day. Watch out for any Grand National offers which may be on your Grand National fancies in the build up to Aintree.
Bear in mind before placing your Grand National bets, the final list of 40 Grand National runners will be available usually around midday 48 hours prior to race day so by midday on the Thursday.
If you place your grand national bets prior to the final declaration stage you may risk losing your stake if your Grand National runner is not declared to race. If your runner is declared to race but does not make the final top 40 then you will receive a stake refund. Also, your bookie may be already offering 'Non Runner-No Bet' terms which will be stated and if this is the case you will receive a stake refund if your Grand National fancy is subsequently declared a non runner.
When you have decided on your Grand National selections, if you are placing your Grand National wagers a few days prior to race day then the Grand National runners odds will more than likely be visible on your bookies main home page. If not they will be available under the horse racing section, Ante Post and Grand National.
To place your Grand National bets, just click on the current odds next to your fancy from the list of 40 Grand National runners. The odds may be showing as decimal (21.00 for example which includes your stake in any returns so a £1 win bet would payout £21 for a win) or 20/1 if you prefer the fractional odds display you can select this format via your account settings.
Once you have clicked on the odds next to your selection you will see the stake option for you to complete your stake. If you want to back your grand national horse to win then you just need to enter your bet stakes and be sure to check you have the correct selection and bet stake before hitting confirm bet. Once you have hit confirm/bet your Grand National wager is on!
How Do I Collect My Grand National Winnings ?
Any payouts from successful Grand National bets are paid directly into your online betting account, this is usually fairly quickly after the race has finished however in some cases it may be not until the 'weighed in' signal has been announced and the result is declared official. If you want to withdraw some or all of your Grand National winnings you just need to complete the withdraw option on your online betting account and your requested amount will be credited to your debit card account within a few days.
What Grand National Bets Can I Place Online ?
Online betting may seem a little different from visiting the high street bookies to place your Grand National bets however online betting accounts offer the same bet types as those available in shop. Win bets and Each Way bets are obviously the most commonly placed on the Grand National plus those a little bolder can place a forecast (1st & 2nd) or/and a tricast (1st, 2nd, 3rd). Also much nearer race day there will be Grand National specials like number of finishers
We explained how to place win bets on your Grand National selections in the previous section and the process for placing your Each Way Grand National wagers is largely the same, click on the odds next to your selection also ensuring you click/tick the 'EW' option next to your selection. Also remember here your each way bet is split into two bets (win & place) so your unit stake entered needs to be half the amount of your total stake. Again check your selection and total staked before confirming your bet.
As already mentioned Each Way terms for Grand National bets may vary with various bookies offering enhanced each way terms for example some may payout on the the first five home or the first six home or more in some cases so it is best to shop around before deciding on which bookies with whom you want to place your Grand National bets.
A popular bet with the chance of winning a nice payout for a relatively low stake, the 2019 Grand National winning forecast with Tiger Roll winning at 4/1 and Magic of Light finishing 2nd at 66/1 paid a cool £286 to a £1 stake.
To place a Grand National forecast bet you will likely find Forecast bet options under a separate Grand National sub menu heading to the win and each way options but this will be clearly visible and may vary with different bookies.
To predict a straight forecast just click on the horse you think will win under the column headed '1st' and then the horse you think will be runner up click under the column headed '2nd'. A straight forecast is one bet so your unit stake entered will be your total staked.
To perm multiple selections in a forecast bet you will need to enter your selections under the 'Any' column (may vary bookie to bookie). Bear in mind the more horses you click on the permutations will increase thus increasing your number of bets. Perming two horses means your unit stake will be x 2 when considering the total you want to spend, perming 3 horses will be x 6 your unit stake.
Similar to the forecast only this time we are trying to predict the 1st, 2nd and 3rd to finish. The 2019 Grand National result as stated above with Rathvinden finishing 3rd at 8/1 paid £2260.
Again, to place a Grand National tricast bet this option will likely be under a sub heading with the forecast options. You can predict a straight tricast, selecting the horse you think will win in the '1st' column, the runner up under '2nd' and then the '3rd' etc. Your choices have to finish in the correct 1,2,3 order and this is one bet.
For perm selections, again enter your picks under the 'any order' column and be mindful of your total spend as selecting 3 horses will be x 6 your unit stake, 4 horses in a perm will be 24 bets x your unit stake.
Grand National Special Bets
Many betting shop punters enjoy a little flutter on the Grand National novelty bets like betting on the 'grey horses' and number of finishers etc. You will find these novelty markets available with your online bookie when the final 40 Grand National runners are decided. Take a look at our Grand National Pinstickers Guide to help shortlist Grand National runners using various novelty topics, like star sign and jockey silks.