2013 Grand National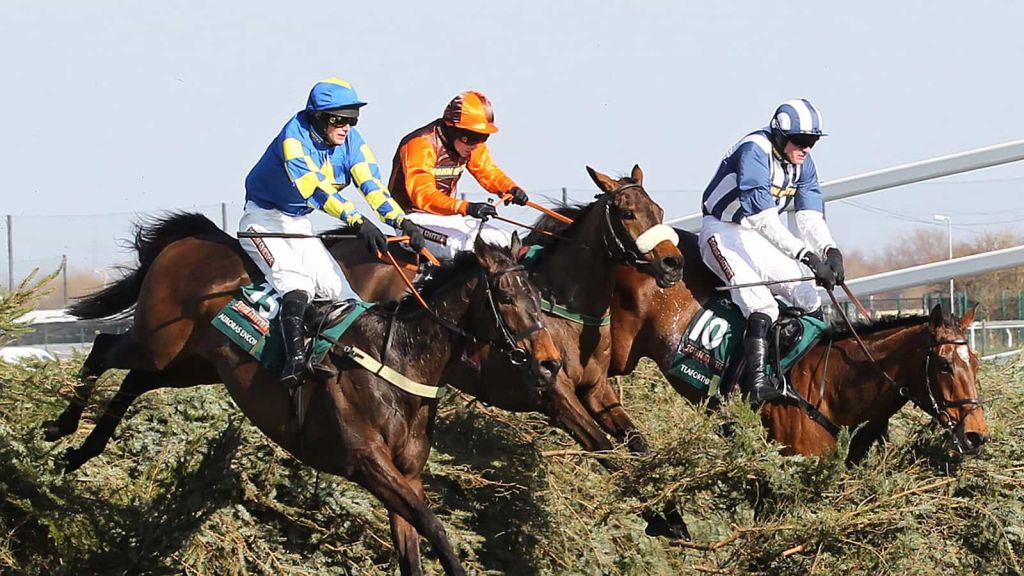 Race Summary
The 2013 Grand National came under intense media scrutiny after the much publicised changes to the famous Aintree fences that were intended to increase safety to horse and jockey.
Thankfully the new softer fences were a resounding success on the safety front, with a noticeable reduction in the number of fallers during the race.
Another change to the Grand National this year has been the repositioning of the start of the race and that too was a success with the runners starting the race at the first time of asking.
Once the race was underway it was obvious the race was going to be run at a ferocious pace with Balthazar King and Across The Bay setting a scorching gallop over the early fences.
The two front runners kept the lead for a long way with Donald McCain's Across The Bay only giving up first place as the field crossed the Melling Road for the second time.
At that point Welsh National runner-up Teaforthree took over at the head of affairs, closely pursued by 2011 Grand National runner-up, Oscar Time . These two strong stayers kicked on towards the second-last and appeared to have the race between them but one horse had quietly crept into a promising position; Auroras Encore .
Ryan Mania on Auroras Encore appeared to be confident he had plenty left on his horse and brought Sue Smith's eleven-year-old gelding to challenge for the lead at the last fence. Mania's timing was perfect and he had conserved more energy than his his two main opponents.
Auroras Encore powered clear for an eventual nine length success from a fast finishing Cappa Bleu with the gallant Teaforthree and Oscar Time filling the minor places.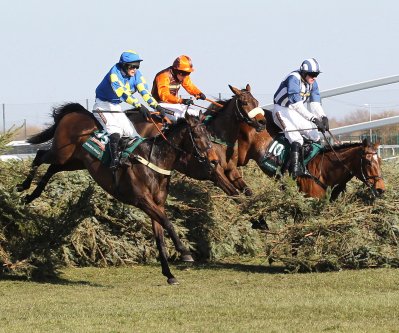 Auroras Encore
Auroras Encore provided a 66/1 shock when winning the 2013 Grand National, although as a former runner-up in the Scottish National perhaps he shouldn't have been allowed to go off at such inflated odds.
The Sue Smith trained gelding obviously enjoyed a return to good ground and benefited from the modifications to the Aintree fences that saw all the forty runners make it as far as the seventh fence. Auroras Encore had fell or unseated on six previous occasions in his career prior to Aintree but he handled the new softer obstacles here with aplomb.
Jockey Ryan Mania gave the winner a lovely patient ride producing his mount at the last fence to scoot away from long time leader Teaforthree and the fast finishing Cappa Bleu.
Winner Comments From Owners, Trainer and Jockey
Douglas Pryde, Jim Beaumont and David Van Der Hoeven
"We bought him at Christmas and his first run for us was in the Rowland Meyrick Chase at Wetherby, but the plan to run him here was made when we bought him. His form when second in last year's Scottish National was in our mind and we have just been waiting for this better ground."
"In all my time in horse racing I've always wanted to bring a horse to the Grand National, and it's just very nice to win it."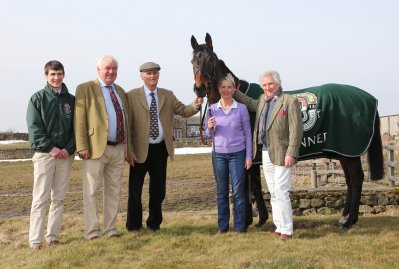 Sue Smith
"I should be in tears, like Harvey," said Mrs Smith, 65. "Ryan (Mania) gave the horse such a good ride. We knew the ground was right, we knew everything else was and it was. "He had a bit of luck in running but he didn't have much weight so that helped. But it was no fluke. The horse has plenty of miles on the clock and is very sensible, he's a brilliant ride."
"Ryan has given the horse a magnificent ride"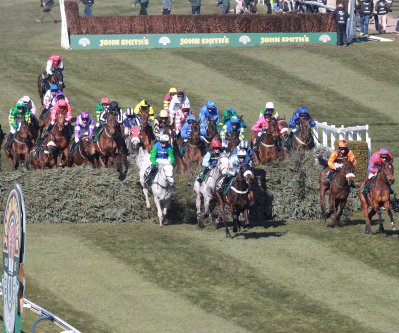 Ryan Mania
Mania said: "It's unbelievable - people keep telling me to look happy and I am, but I just cannot believe it's happened. It's a dream and you cannot explain what it's like."
"I was happy with my early position and he jumped really well over the early fences, with just the odd mistake here and there. He was on his head a bit, but he learned from those mistakes and learned to back off the fences a bit. He was always travelling so well."
"I got a blow into him after Becher's, and having ridden here in November I remembered that I probably kicked on a bit soon then and realised you have to give them a chance to get their breath."
"I was sixth or seventh and had a bit of daylight and a clear run - I was very lucky and that's what you need in the National."
"My only ambition was to get round, although I knew he stayed the trip. He hasn't been himself all season and has needed this better ground and sun on his back. He's not had the sunshine, but he got the better ground and he's class on his day."
"Coming to the second-last I was delighted because I realised I was going to be placed, and I thought 'this is great, let's just jump home', then the front two [Teaforthree and Oscar Time] stopped in front of me at the last and I said to myself 'this isn't happening'. So I got down and gave him a shove and he quickened on past them."
"I heard the commentator say there was a loose horse behind me but I didn't dare look round and just kept going."
2013 Full Result
Finishers
1
Auroras Encore
11
10-3
Sue Smith
Ryan Mania
66/1
2
Cappa Bleu
11
10-11
Evan Williams
Paul Moloney
12/1
3
Teaforthree
9
11-3
Rebecca Curtis
Nick Schofield
10/1
4
Oscar Time
12
10-11
Martin Lynch
Mr Sam Waley-Cohen
66/1
5
Rare Bob
11
10-6
Dessie Hughes
Bryan Cooper
16/1
6
Swing Bill
12
10-8
David Pipe
Conor O'Farrell
80/1
7
Soll
8
10-0
Jo Hughes
Mark Grant
33/1
8
Tarquinius
10
10-2
Gordon Elliott
Wilson Renwick
100/1
9
Saint Are
7
10-8
Tim Vaughan
Dougie Costello
50/1
10
Always Waining
12
10-10
Peter Bowen
Tom O'Brien
33/1
11
Major Malarkey
10
10-0
Nigel Twiston-Davies
Tom Scudamore
50/1
12
Join Together
8
11-2
Paul Nicholls
Daryl Jacob
25/1
13
Seabass
10
11-6
Ted Walsh
Ms Katie Walsh
11/2F
14
Across The Bay
9
11-2
Donald McCain
Henry Brooke
40/1
15
Balthazar King
9
10-12
Philip Hobbs
Richard Johnson
16/1
16
Quiscover Fontaine
9
10-7
Willie Mullins
David Casey
40/1
17
Any Currency
10
10-0
Martin Keighley
Ian Popham
100/1
Did Not Complete:
UR 8th
Big fella Thanks
11
11-6
Tom George
Denis O'Regan
33/1
UR 8th
Treacle
12
10-4
Tom Taaffe
Noel Fehily
33/1
UR 8th
The Rainbow Hunter
9
10-6
Kim Bailey
Aidan Coleman
50/1
PU before 11th
Ninetieth Minute
10
10-3
Tom Taaffe
Niall Madden
80/1
Fell 12th
Tatenen
9
10-10
Richard Rowe
Andrew Thornton
100/1
PU before 14th
Viking Blond
8
10-0
Nigel Twiston-Davies
Adam Wedge
66/1
UR 15th(The Chair)
Colbert Station
9
11-1
Ted Walsh
AP McCoy
12/1
PU before 17th
Lost Glory
8
10-8
Jonjo O'Neill
Mark Walsh
10/1
PU after 18th
Joncol
10
10-13
Paul Nolan
Robbie Power
50/1
PU after 18th
What A Friend
10
11-9
Paul Nicholls
Sam Thomas
33/1
PU before 21st
Becauseicouldntsee
10
10-6
Noel Glynn
MJ Ferris
66/1
PU before 22nd
Imperial Commander
12
11-10
Nigel Twiston-Davies
Sam Twiston-Davies
11/1
PU before 24th
Ballabriggs
12
11-4
Donald McCain
Jason Maguire
20/1
PU before 24th
Forpadydeplasterer
11
11-0
Tom Cooper
Andrew McNamara
66/1
PU before 24th
Quel Esprit
9
11-7
Willie Mullins
Paul Townend
40/1
PU before 24th
Weird Al
10
11-8
Donald McCain
Timmy Murphy
66/1
PU before 25th
Harry The Viking
8
10-6
Paul Nicholls
Ryan Mahon
40/1
Fell 25th
On His Own
9
11-0
Willie Mullins
Ruby Walsh
8/1
PU before 27th
Mr Moonshine
9
10-5
Sue Smith
Peter Buchanan
66/1
PU before last
Chicago Grey
10
10-7
Gordon Elliott
Paul Carberry
11/1
UR last
Roberto Goldback
11
11-6
Nicky Henderson
Barry Geraghty
25/1
UR last
Sunnyhillboy
10
11-4
Jonjo O'Neill
Ritchie McLernon
20/1
Refused last
Mumbles Head
12
10-4
Peter Bowen
Jamie Moore
100/1