2012 Grand National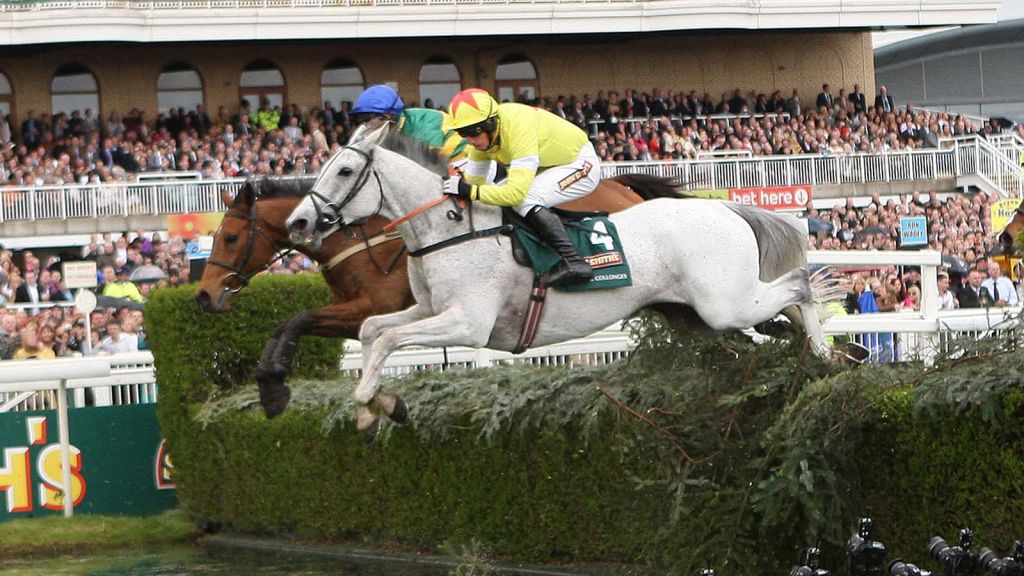 Race Summary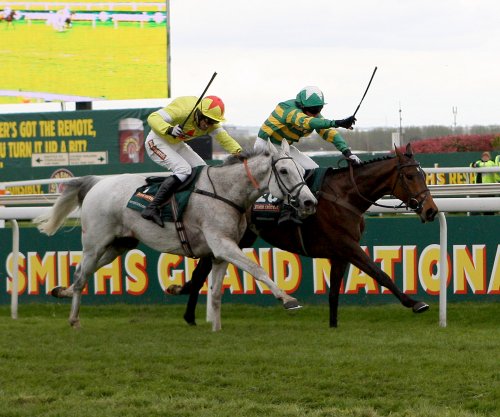 No horserace evokes as much emotion as the Grand National and the 2012 renewal emphasised the excitement and the passion of this most famous of all races.

In 2010 we had scenes of relief and joy as AP McCoy finally won the one big race that had eluded him and in 2011 Ballabriggs' victory for the McCain yard reminded everyone of the Grand National's greatest exponent: Red Rum.

How could this great race follow that in 2012 Amazingly, the latest running of the Grand National could claim to be the most dramatic of all with a titanic battle on the run-in with one horse crossing the line the smallest of distances in front of his main opponent. Neptune Collonges and Sunnyhillboy had the race between them from the elbow and it was the Paul Nicholls trained grey that just prevailed in the end by a nose.

The gallant Seabass and Katie Walsh had led over the last fence but Sunnyhillboy powered past them shortly after the jump and looked to be heading for another Grand National victory for Jonjo O'Neill.

With one hundred yards to go Sunnyhillboy still looked as if he would win but then his jockey Ritchie McLernon started to show signals that the horse was tiring and Daryl Jacob managed to conjure a last gasp drive on Neptune Collonges.

Both horses seemed to hit the line as one and for a moment it looked as though for the first time ever the Grand National might have ended in a dead-heat. It seemed impossible to imagine that after four and a half miles there could be a photo-finish that was this close.

After an agonising wait for connections, it was finally announced that Neptune Collonges had won by the minimum distance possible. Chaotic scenes followed in the winner's enclosure with Neptune's owner John Hales in tears of joy.

Katie Walsh became the lady rider who has come closest to winning the Grand National in finishing third on Seabass, whilst in fourth place was Cappa Bleu who provided the fourth consecutive placing for owners Mr and Mrs William Rucker whose State Of Play had been placed for the last three years.
Winner Comments
Neptune Collonges
Neptune Collonges' owner John Hales announced immediately after the race that the horse would now be retired. He has been a fantastic servant for his owner and trainer running a total of thirty-six times and winning sixteen of those starts.
The gallant grey was the first horse of his colour to win since Nickolaus Silver in 1961.
Neptune Collonges'£547K first prize took his career earnings to an amazing £1,313,675.
The other highlights of Neptune Collonges career include winning two Punchestown Gold Cups and an Irish Hennessy.
Neptune Collonges has been one of the stars of National Hunt racing in recent years and can now look forward to a happy retirement.
John Hales
Winning owner John Hales said: "This is so emotional for me and he retires today. I just wanted to get him round safely but I never dreamed he would win. I thought the handicapper had given him 6lb too much."
"The family were split whether to run Neptune Collonges. My daughter is showjumping down in south Wales - she has probably jumped off the horse if she is in the middle of a round!"
"He will never race again - that's it."
Paul Nicholls
"Brilliant, brilliant, brilliant! I wasn't sure we had got there," said Nicholls. "He was running away when the other horse was stopping and I thought the verdict could have gone either way. He got there at the right time and that's what counts. This has been a race we haven't had the best of luck in but it's great to win. It's a race everyone knows and everyone watches. What a brilliant ride. I am so chuffed for Daryl (Jacob)"
Neptune Collonges victory snatched a seventh trainer's title for Paul Nicholls after it looked destined to go to his great rival, Nicky Henderson.
"I had given up on the trainers' championship - I told Nicky that it was all over." said Nicholls.
Daryl Jacob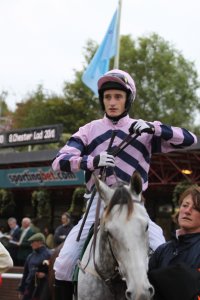 "I just kept my head down and the horse kept grinding out the whole way to the line. I wasn't sure where the winning line was but I knew that, inch by inch, I was starting to grind him down. Luckily enough, the line came and we held on just enough to get there," said Daryl Jacob.
"Nipper (Neptune Collonges) was very, very good - he got me out of trouble the whole way. I was going as fast as I was going from the start of the race to the finish of the race. He knew exactly what pace he was going and I just had trust him on it. I don't think he missed a beat the whole way round and he loved it.
This means the whole world to me; it's the race every jockey wants to win."
Full List of Runners
Finishers
1
Neptune Collonges
11
11-6
Paul Nicholls
Daryl Jacob
33/1
2
Sunnyhillboy
9
10-5
Jonjo O'Neill
Richie McLernon
16/1
3
Seabass
9
10-12
Ted Walsh
Katie Walsh
8/1JF
4
Cappa Bleu
10
10-10
Evan Williams
Paul Moloney
16/1
5
In Compliance
12
10-0
Dessie Hughes
Niall Madden
100/1
6
Ballabriggs
11
11-9
Donald McCain
Jason Maguire
12/1
7
Hello Bud
14
10-0
Nigel Twiston-Davies
Sam Twiston-Davies
33/1
8
Tharawaat
7
10-4
Gordon Elliott
Brian O'Connell
125/1
9
Shakalakaboomboom
8
10-12
Nicky Henderson
Barry Geraghty
8/1JF
10
Swing Bill
11
10-3
David Pipe
Conor O'Farrell
100/1
11
The Midnight Club
11
10-8
W P Mullins
Andrew Tinkler
40/1
12
Planet Of Sound
10
11-5
Philip Hobbs
Richard Johnson
33/1
13
Neptune Equester
9
10-0
Brian Ellison
Felix De Giles
100/1
14
Calgary Bay
9
11-6
Henrietta Knight
Dominic Elsworth
33/1
15
Midnight Haze
10
10-0
Kim Bailey
Sean Quinlan
80/1
Did Not Complete:
Fell 1st
Viking Blond
7
10-0
Nigel Twiston-Davies
Brian Hughes
80/1
Fell 2nd
West End Rocker
10
10-12
Alan King
Wayne Hutchinson
16/1
Fell 2nd
Junior
9
11-2
David Pipe
Tom Scudamore
16/1
UR 5th
State Of Play
12
10-3
Evan Williams
Noel Fehily
40/1
BD 5th
Chicago Grey
9
10-13
Gordon Elliott
Paul Carberry
20/1
BD 5th
Rare Bob
10
10-9
Dessie Hughes
Bryan Cooper
40/1
Fell 6th (Bechers)
Synchronised
9
11-10
Jonjo O'Neill
AP McCoy
10/1
Fell 7th
Alfa Beat
8
11-5
John Joseph Hanlon
Davy Russell
50/1
Fell 8th
Black Apalachi
13
11-3
Dessie Hughes
Denis O'Regan
25/1
Fell 8th
Becauseicouldntsee
9
10-3
Noel Glynn
Davy Condon
25/1
UR 8th
Killyglen
10
10-4
S R Crawford
Robbie Power
14/1
UR 8th
Tatenen
8
10-13
Richard Rowe
Andrew Thornton
100/1
UR 8th
Organised Confusion
7
10-8
Arthur Moore
Nina Carberry
20/1
Fell 10th
Treacle
11
10-8
Tom Taaffe
Andrew Lynch
22/1
UR 10th
Arbor Supreme
10
10-7
Jonjo O'Neill
Mark Walsh
100/1
PU before 11th
Giles Cross
10
10-1
Victor Dartnall
Paddy Brennan
20/1
UR 15th (The Chair)
Always Right
10
10-10
John Wade
James Reveley
25/1
Fell 17th
Quiscover Fontaine
8
10-4
Willie Mullins
David Casey
50/1
PU before 19th
Deep Purple
11
11-3
Evan Williams
Jamie Moore
25/1
Refused 19th
Vic Venturi
12
10-0
Dessie Hughes
Harry Skelton
80/1
PU before 22nd (Bechers)
Postmaster
10
10-2
Tim Vaughan
Dougie Costello
100/1
PU before 22nd (Bechers)
Mon Mome
12
10-8
Venetia Williams
Aidan Coleman
50/1
UR 22nd (Bechers)
On His Own
8
10-11
Willie Mullins
Paul Townend
14/1
BD 22nd (Bechers)
According To Pete
11
10-12
Malcolm Jefferson
Harry Haynes
28/1
Fell 27th
Weird Al
9
11-8
Donald McCain
Timmy Murphy
28/1