Grand National 2009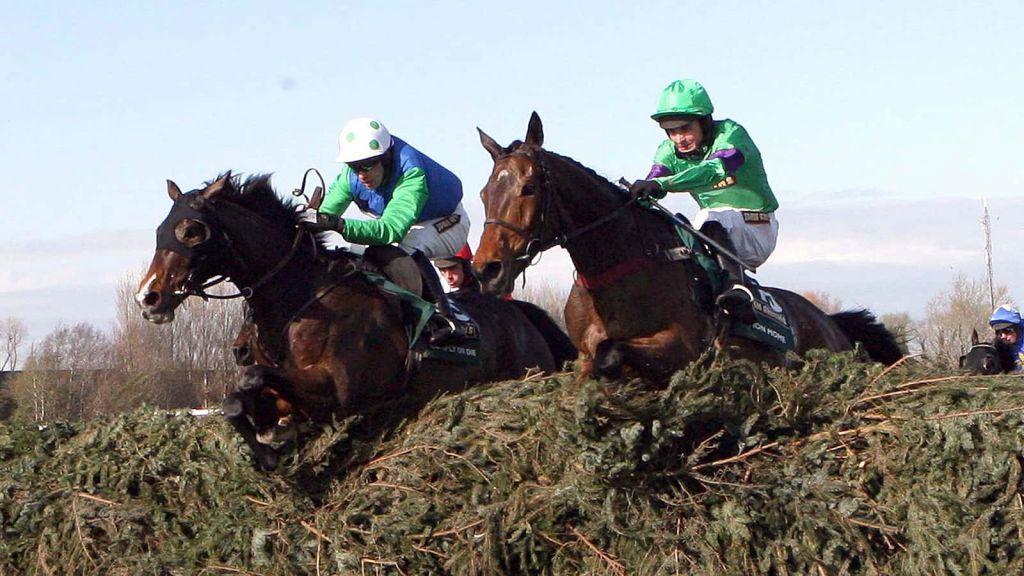 Race Summary
The 2009 Grand National provided one of the biggest shocks in the history of the great race when Mon Mome, trained by Ventetia Williams, became only the second horse ever to win the National at 100/1.

He equalled the highest ever starting price of a Grand National winner with only the infamous Foinavon in 1967 also allowed to go off at such extreme odds. In hindsight the odds look huge given the horse is the highest rated horse this century to win the National and had been 9/2 favourite for the Welsh National only four races before his Aintree exploits. Nevertheless, he was 100/1 and in all probability not much of the near £300 million wagered with the bookmakers made it back to punters who had backed the winner.

The placed horses proved much more popular for punters with 2008 Grand National winner Comply Or Die running another great race to finish runner-up in 2009, some twelve lengths behind the impressive winner.

In third place was My Will, ridden by Ruby Walsh who could not stop his mount from making a series of mistakes that undoubtedly did not help his chances. In fourth place was State Of Play, trained by Evan Williams, and connections of this horse had been quietly confident about the former Charlie Hall and Hennessy winner and he looked the horse most likely to take the prize when jumping to the front two fences from home. Unfortunately his stamina seemed to give way on the run in and he weakened to finish just under seventeen lengths behind Mon Mome.

The 2009 was notable for its truly competitive nature with over a dozen horses still in with a chance as they crossed the Melling Road and turned for home. Positive mentions should go to rank outsiders Cerium and Arteea who both ran excellent races to finish fifth and tenth respectively after receiving a fair bit of criticism for their owner regarding their merits of being in the race. However, the most eye-catching performance award goes to Big Fella Thanks. Paul Nicholls' young chaser finished 6th as a novice on only his seventh run over fences and he looks sure to come back in 2010 as a strong contender for a higher placing.
Winner Comments
Mon Mome
Mon Mome is the longest priced winner of the Grand National since the infamous Foinavon won in 1967, at a staggering price of 100/1 – but in hindsight it seems impossible that this classy horse could start at such a dismissive price.

Mon Mome had been favourite for the Welsh National a little over three months before but an under par performance at Chepstow and some subsequent lacklustre outings allowed him to go off largely unconsidered at Aintree.

However, he belied his recent poor performances and his fairly uninspiring tenth placing in this race in 2008 to give an authoritative display of jumping and under a cool ride from Liam Treadwell ran out a comfortable twelve length winner. The race had threatened to be one of the closest Nationals for years when a host of horses remained in contention turning for home but in the end Mon Mome was far too strong.

Venetia Williams' charge had won a string of races in his Novice year but had only won once prior to the National since then but that win was in a valuable handicap at Cheltenham where he defeated Sun Alliance Chase winner Star De Mohaison. However he had run consistently well to see his handicap mark rise to a mark of 148 before the National, the highest winning mark for a number of years.

Mon Mome now faces a battle against the handicapper but he will be only ten years old in 2010 and he must have an excellent chance of defending his crown next year.


Venetia Williams
Mon Mome's success must surely cement Venetia Williams as one of top lady National Hunt trainers of all time as she becomes only the second lady trainer to win the Grand National after Jenny Pitman, who won the race in 1983 and 1995.
Williams has now trained the winner of a Grand National, a Welsh National, a King George and a Hennessy Gold Cup, not to mention the variety of top staying hurdle races one by of the publics' favourite horses of recent years; Lady Rebecca.
Miss Williams started training in 1995/96 and has gradually built up a sizable string at her Herefordshire stables that is respected by all in the National Hunt world but a run of unplaced efforts for her horses in the Grand National had made some punters question if the Aintree race would continue to be an unlucky race for her, seeing as she had been knocked unconscious in her only ride in the race in 1988. Williams herself had not been confident of Mon Mome's chances of improving on his tenth place finish from last year.
"We were quite pleased with that 10th," she said. "I've never thought too much about winning it because you only set yourself up for a disappointment. He wasn't in the best form of his life when he ran in it a year ago and he had gone up in the weights after a career-best run in the autumn. There was no obvious reason he should finish much closer. "
Nevertheless, the horse proved his 2008 running to be all wrong and his tenacity and durability is all credit to his trainer.
Liam Treadwell
Twenty-three year old Liam Treadwell was having his first ride in the Grand National but on reviewing the race you would believe he has been round at least a dozen times before because he rides a race full of poise and intelligence and his mount receives a ride that saves as much ground as possible on the inside rail.
The young jockey then produces the nine year old gelding at just the right time after the last fence to stay on for a famous victory.
Treadwell stated he had a perfect run throughout the race until he got caught up in a group of horses vying for position as the leaders were crossing the Melling Road for the final time.
"A few fell beside me and I wasn't that happy early on but the further he went the better he went. He got in a pocket but it gave him an opportunity to fill up [his lungs] and when the gaps appeared he ran through them. I was pretty confident from the last because he kept finding for me."
The young jockey who has retained a link with the Williams yard even though he is now first jockey for Nick Gifford, can count himself lucky to get the ride on Mon Mome as choice of the Williams' horses went to stable jockey Aidan Coleman whose chose Stan, only for that horse to fall, somewhat coincidentally, at the Foinavon fence on the first circuit.
SECOND PLACE
Comply Or Die
The 2008 winner ran a fine race in defence of his crown and Comply Or Die must now join Hedgehunter as the most consistent performers in the Grand National in the last ten years.
Racing off an eleven pound higher mark, David Johnson's gelding perhaps didn't jump with quite the authority of last year but still performed well enough to take up the running between the last two fences only for the weight to prove too much. The horse gave his all and had to be taken straight back to the racecourse stables to be cooled down after the race. Owner David Johnson said
"He's obviously exhausted but he's okay. He's run a gallant race and he'll go down as one of Aintree's heroes".
David Pipe
David Pipe continues to send out the big winners from Pond House with Lough Derg and Madison Du Berlais providing the highlights of the 08/09 season. However, Comply Or Die must be a favourite in the yard after his exploits at Aintree took his lifetime earnings to just short of the £800,000 mark. Prize money will undoubtedly be secondary to the Pipe team who will want to manoeuvre into a more challenging position to the powerful Nicholls yard and horses of the quality of Comply Or Die will only help to make that goal a more likely proposition.
Timmy Murphy
Timmy Murphy continues to gain plaudits from all quarters for the high quality of his riding and no doubt the most important accolade is the respect he receives from his peers. Highly respected by his colleagues as one of the best jockeys riding today, Murphy continues to underline his skills with a string of top quality rides season after season and he continued here by giving his old ally Comply Or Die every chance to defend his crown from 2008. In the end the weight was just too much but no doubt the partnership will be reunited for a further attempt in 2010.
THIRD
My Will
A great performance from My Will and together with the winner he seems to have ended any doubt that there may have been about French bred horses not being suited to the Grand National. Ruby Walsh said this after the race:
"He's run a cracker. He made four or five mistakes and I was having to use too much then because he hit the fences half way up so I have had to keep squeezing him and kicking up to make the fences which is the wrong thing to do in a four and a half mile race."
Even though My Will has been in training since 2003 he is still only nine years old and is likely to return for another tilt at Aintree next year.
Paul Nicholls
The Champion National Hunt Trainer who has pulled ahead of his rivals in many areas but has struggled to find a horse that fits the bill in the Grand National. Many thought My Will may have been the answer but it's back to the drawing board for the Ditcheat team with regards to the Grand National but it can only be a matter of time before this great race is added to their impressive record.
Ruby Walsh
Six times Champion Jockey in Ireland and twice a previous Grand National winner with Papillon in 2000 and Hedgehunter in 2005 only tells part of the story of Ruby Walsh who many believe the greatest jockey riding today. A host of big race wins and attachments to two of the biggest yards in England and Ireland, he is the rider that most punters want on their horse.
As usual he gave his mount 100% here but My Will just didn't jump well enough to give Walsh a hat-trick of Grand National wins. That accolade surely won't be long in coming though.
FOURTH
State Of Play
The former winner of the Hennessy Gold Cup and Charlie Hall Chase had a touch of class about him and punters had latched on to that in the run up to the race forcing his price into a skinny looking 14/1. Challenging for the lead at the second last he looked the most likely winner but perhaps a combination of weight and a first time into this stamina range proved ultimately just too much for the Welsh raider. He could possibly challenge again next year if given a few pounds less by the handicapper.
Evan Williams
Evan Williams had resisted the temptation to run State Of Play at the Cheltenham Festival as he feels that the horse is at his best when fresh and that decision seems fully vindicated with such a high quality performance.
The young trainer has made giant strides up the National Hunt ladder in recent years and he looks set for further success in years to come.
Paul Moloney
Paul Moloney had been quietly confident about his mounts chances before the race and was quite happy with the performance to finish fourth. He said:
"That was absolutely super. He gave me a lovely ride. He's a class horse but I just wish we'd had a little bit less weight."
Full List of Finishers
Finishers
1
Mon Mome (FR)
9
11-0
Mrs Vida Bingham
Miss Venetia Williams
Liam Treadwell
100/1
2
Comply Or Die (IRE)
10
11-6
Mr D A Johnson
D E Pipe
Timmy Murphy
14/1
3
My Will (FR)
9
11-4
The Stewart Family
P F Nicholls
R Walsh
8/1
4
State Of Play
9
11-2
Mr & Mrs William Rucker
Evan Williams
Paul Moloney
14/1
5
Cerium (FR)
8
10-5
Mrs J E Wilson
Paul Murphy
Keith Mercer
100/1
6
Big Fella Thanks
7
11-1
Paul K Barber & Mrs M Findlay
P F Nicholls
Christian Williams
14/1
7
Butler's Cabin (FR)
9
10-13
Mr John P McManus
Jonjo O'Neill
A P McCoy
7/1F
8
Southern Vic (IRE)
10
10-9
Mrs Brenda Graham
T M Walsh
N P Madden
33/1
9
Snowy Morning (IRE)
9
11-8
Quayside Syndicate
W P Mullins
Andrew J McNamara
33/1
10
Arteea (IRE)
8
10-9
Mrs J E Wilson
D E Pipe
J W Farrelly
100/1
11
Irish Invader (IRE)
8
10-9
Sackcloth & Ashes Syndicate
W P Mullins
P Townend
16/1
12
Idle Talk (IRE)
10
10-5
Mr Trevor Hemmings
D McCain Jnr
Brian Harding
66/1
13
Darkness
10
10-9
Lady Lloyd-Webber
C R Egerton
Wayne Hutchinson
16/1
14
Preists Leap (IRE)
9
11-5
Mr John O'Donohue
Thomas Gerard O'Leary
P T Enright
100/1
15
Offshore Account (IRE)
9
10-13
Mr Brian Polly
C F Swan
D J Casey
20/1
16
Battlecry
8
10-10
Mr Trevor Hemmings
N A Twiston-Davies
Tom Scudamore
33/1
17
Cornish Sett (IRE)
10
10-10
Mr Peter Hart
P F Nicholls
Nick Schofield
33/1
1st Fence
F
Himalayan Trail
10
10-6
Mrs Anne Gittins
James Joseph Mangan
P W Flood
28/1
F
Golden Flight
10
10-11
Mr and Mrs J D Cotton
N J Henderson
B J Geraghty
66/1
2nd Fence
F
Ollie Magern
11
11-6
Mr Roger Nicholls
N A Twiston-Davies
Mr S Waley-Cohen
66/1
F
Brooklyn Brownie (IRE)
10
10-6
Mrs K S Gaffney & J N Stevenson
J M Jefferson
Phil Kinsella
22/1
3rd Fence
F
Chelsea Harbour (IRE)
9
11-8
Mrs Paul Duffin
Thomas Mullins
E Mullins
40/1
BD
Reveillez
10
10-12
Mr J P McManus
Jonjo O'Neill
M P Walsh
100/1
4th Fence
All jumped
5th Fence
All jumped
6th Fence
All jumped
7th Fence
F
Stan
10
11-6
Mr Paul Beck
Miss Venetia Williams
A Coleman
50/1
8th Fence
All jumped
9th Fence
All jumped
10th Fence
All jumped
11th Fence
All jumped
12th Fence
F
Musica Bella (FR)
9
10-10
Jean-Paul Senechal
F-M Cottin
P A Carberry
66/1
13th Fence
All jumped
14th Fence
All jumped
15th Fence
PU
Cloudy Lane
9
11-10
Mr Trevor Hemmings
D McCain Jnr
Jason Maguire
50/1
16th Fence
F
Zabenz (NZ)
12
10-5
Michael H W Watt & S L Hobbs
P J Hobbs
T J O'Brien
100/1
17th Fence
PU
Eurotrek
13
11-3
Mr Paul Green
P F Nicholls
Sam Thomas
80/1
18th Fence
F
Can't Buy Time (IRE)
7
10-9
Mr J P McManus
Jonjo O'Neill
Noel Fehily
33/1
UR
Fleet Street
10
10-10
Mr W H Ponsonby
N J Henderson
Andrew Tinkler
100/1
19th Fence
PU
Rambling Minster
11
10-9
The Lingdale Optimists
Keith Reveley
James Reveleyr
8/1
20th Fence
All jumped
21st Fence
PU
Fundamentalist(IRE)
11
10-11
Mr C Comes
N A Twiston-Davies
David England
100/1
PU
Kilbeggan Blade
10
10-7
Mr K Doocey & Mrs A Doocey
T R George
G Lee
20/1
22nd Fence
UR
Black Apalachi (IRE)
10
11-5
Mr G Burke
D T Hughes
Denis O'Regan
11/1
F
Silver Birch (IRE)
12
11-0
Mr Brian Walsh (Co Kildare)
Gordon Elliott
R M Power
40/1
F
Parsons Legacy
11
10-12
Mr R A S Offer
P J Hobbs
Richard Johnson
20/1
PU
Kelami(FR)
11
10-5
Halewood International Ltd
Mrs L Williamson
Derek Lavery
200/1
23rd Fence
All jumped
24th Fence
All jumped
25th Fence
PU
Knowhere (IRE)
10
11-11
Mr H R Mould
N A Twiston-Davies
P J Brennan
50/1
26th Fence
All jumped
27th Fence
All jumped
28th Fence
All jumped
29th Fence
All jumped
30th Fence
PU
Hear The Echo (IRE)
8
11-5
Gigginstown House Stud
M F Morris
D N Russell
16/1
PU
L'Ami (FR)
10
10-11
Mr J P McManus
E Bolger
Robert Thornton
16/1