Grand National 2006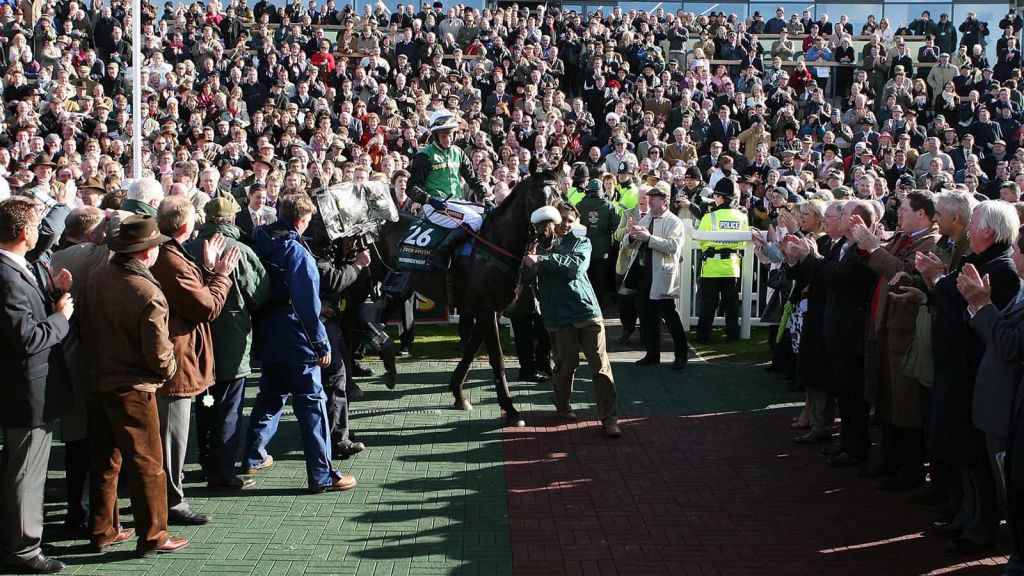 Race Summary
The horses as usual went down to the first fence a little too quickly and this caused three horses to fall at the first fence Royal Auclair last years second, Tyneandthyneagain and the fancied Innox.
It was not long before it was obvious that this year's race was being run on slower, softer ground was one reason but also the jockeys were being a little more sensible with their charges and not going too fast. By the time they got to Becher's on the first circuit they were not very stretched out, Shotgun Willy was in the lead from Ballycassidy, First Gold and Garvivonnian. They went on to the Canal Turn with Ballycassidy, and the improving Lord of Illusion the two leaders. By the time they came back on the racecourse proper not much had changed.
At the 14th fence Ballycassidy was still in the lead and Puntal who had been off the course for over a year was also running well. Therealbandit, First Gold and Shotgun Willy were next and then came last year's winner Hedgehunter.
At the biggest fence on the course the leaders jump the fence well in advance of the field. however some are not so lucky. Silver Birch fell and brought down Heros Collonges. Jack high also fell independently. The horses went over the water jump and headed back out on the course for the second time. Ballycassidy and Puntal were disputing the lead Next came First Gold Therealbandit, Hedgehunter, Clan Royal, Lord of Illusion and Risk Assessor. Next came Joes Edge, Forest Gunner, Direct Access, Inca Trail, Numbersixvalverde, Rince Ri, Shotgun Willy, Haut De Gamme, Sir OJ and Native Upmanship. They headed down to the 19th fence Puntal and Ballycassidy were 6 lengths in front of the field next came Clan Royal who made a very bad mistake but stayed on his feet, this left Hedgehunter in third place.
When they got to Becher's on the second Circuit, Puntal was starting to fall behind and Ballycassidy was 6 lengths in front of the field. Many horses were starting to pull up. As they went on to the canal turn nothing changed up front but as they got to Valentine's Ballycassidy was 4 lengths in front but never got his legs up high enough and paid the price and fell. This left Hedgehunter and Clan Royal, the two at the head of the betting market battling for the lead.
However there was a horse making good ground through the now depleted field, Numbersixvalverde was going very well and as they crossed the Melling road and came back to the racecourse proper these three were at the head of the field.
As they got to the second last fence all three were in a line jumping the fence, In close attendance behind were three other horses, Puntal, Risk Assessor, and Nil Desperandum and it was clear that the winner was one of these six.
At the last fence Hedgehunter seemed to be going slightly better than the other two, Clan Royal had just dropped behind by a half a length but at the fence Numbersixvalverde out-jumped both and went into the lead.
Next comes the long run in where so many races have been won and lost. Six tired horses who have given the race everything try and respond to the jockeys urging to just find a little bit more to claim the biggest prize of all.
It wasn't long before they were at the elbow and Numbersixvalverde was a length in front, of Hedgehunter with Nil Desperandum a very tired third and Clan Royal also a very tired fourth. Falling further behind are Risk Assessor and Puntal who are now out of the running. As they pass the elbow and go up the run-in Numbersixvalverde opens up a bigger gap between himself and the next three.
As they get to the line Numbersixvalverde crosses the line to win the 2006 Grand National.
Winner Comments
Numbersixvalverde
Numbersixvalverde is the 21st Irish winner and today continues what looks like Irish domination of the race in recent years. This previous Irish National winner had all the credentials today and was well backed down to 11/1 . He was in a good position all the way through the race and took up the lead in great style from the last, Despite Hedgehunter still trying to peg him back, once in front he did not look like losing the race. Staying on better than the others this horse named after his owners villa in Portugal used his stamina to win the race in good style. At 10 years old this horse should return for another crack at the race next year. It has been quite sometime since back to back winners and next year he will have more weight but who knows, this is the race where dreams are made.
Martin Brassill
Martin Brassill's dream of winning the Grand National came true today, and if that wasn't enough of a fairytale it came with his first runner in the race with a jockey and horse who were also having their first Grand National experience. Martin was born in Co. Clare and was an amateur jockey with over 40 wins under his belt, before he went to work for Mick O'Toole, where he looked after the Irish 2000 guineas winner Dickens Hill. In 1994 he decided to take out his own trainer's license and is now a Kildare-based trainer. This year has seen his win and place prize money rise to almost a half a million pounds and winning such a prestigious race will no doubt give him more good horses to look after in the future.
Niall Madden
Niall Madden or 'slippers' Madden as he is known has been shot right to the top on his first attempt at the Grand National. The son of a former jump jockey with the same name Niall was always going to be a jockey. Niall got his chance today when the man that rode Numbersixvalverde to victory in the Irish National, Ruby Walsh, was riding for another stable and last years winner Hedgehunter. Niall gave the horse a great ride today using the waiting tactics of a much older jockey and not panicking but just producing his horse just when it mattered the most. He walked the course on the morning of the race with his father and after the race recalled his fathers words "If you're still there or thereabouts at the second-last you'll win, because he won't stop galloping," and so it was to become. A young 20 year old jockey having his first ride in the National was to become the toast of Ireland. He is sure now to get more good rides and is one to look out for in the future.
Second Place
Hedgehunter
There is little left to be said about this fabulous horse. Last years winner again ran with great credit to be second giving 17 lbs to the winner. He again ran a great race and showed great stamina and courage in the race. Hedgehunter owes connections very little and will be in the heart of his much respected owner who has spent all his life and a lot of money trying to win this race. The horse gave him that life long ambition last year and the horse did Trevor Hemmings and the team proud again today. Today the weights were against him and he just found one too good, but it was another great race for him. Still only 10 and sure to be back for another crack next year.
W P Mullins
A good jockey in his day Willie Mullins comes from an Irish racing family. So racing is in his blood. He has had some good horses under his charge in the past with the likes of Mickos Dream and Alexander Banquet both who failed to get around this marathon course. This horse of course is one of his favorites and he was very happy with the horse's performance today. He will be back with this horse next year and is becoming one of the regular trainers to have horses good enough to run in the National. As a first class trainer he will always be in demand and the way he turns out this horse year after year for this race he will be in demand from Irish owners who fancy a crack at the race.
Ruby Walsh
One of the top Irish/English jockeys and one of the most stylish jockeys in the game today, Ruby Walsh once again rode a fantastic race on the horse again today getting him round safely and producing the horse at the right time giving him every chance to win if the horse was good enough on the day. The son of the Irish trainer Ted Walsh he is becoming more famous than his father in racing and soon we may be saying that Ted in the father of Ruby rather than the other way around. A top class jockey in every respect.
Third Place
Clan Royal
Clan Royal ran his heart out again today. But found two too good for him. Adding this third place to his second two years ago he has put up a very good performance in defeat. He did make a mistake when going very well on the second circuit and after the last showed his well being when running on taking third place just on the line Another fine run and he will be back again next year.
Jonjo J.O'Niell
A top class jockey who has turned into a top class trainer. As a jockey he is best known for his partnership with Dawn Run but he is now making a real name for himself as a trainer of good national hunt horses. He has one of the best training yards in the country near Cheltenham and consistently turns out horses with good runs in the big events. He consistently earns win and place prize money well over 1 million pounds a season for his owners and is currently at the top of his training career.
A.P. McCoy
10 times champion jockey, this results driven jockey will be the only person who will be unhappy with his third place today. Winners, winners and more winners are the only thing this jockey strives for and only the best will do. He is consistently the best jockey riding in the country and has a lot of rides. He will go anywhere for a winner and rides just as hungrily as he did 10 years ago. He gave the horse every chance today and like the true professional he is, he presented the horse at the right time in the race. He also never stopped riding the horse hard and stole third place on the line. He is the type of jockey who gets wins from horses where others may give up. Since his first ride in the race in 1995 he has longed to win this race and as time goes by he will hunger more for the win. If there is any justice in the world the win will come for this jockey.
Fourth Place
Nil Desperandum
Sixth last year, Nil Desperandum went two places better this year. He went well throughout the race and only seemed to run out of steam in the dying strides. 9 Years old and the youngest in the top four he looks to have what it takes to keep improving in the race as he seems to have taken to the unique fences well. Did little wrong today but just found a few too good today.
Ms F M Crowley
Frances CROWLEY is another Irish trainer, but is from a smaller yard in Curragh, Co Kildare. She does not have that many horses but has a good strike rate with her charges. Her win ratio is 11%, and she turned out this horses again in top class form today. She will be bringing the horse back next year and hoping to get in the frame.
T P Treacy
Tom Treacy has had some bad luck in this race as he fell in 1997 on Black Bar and was unseated in the following year on Dun Belle but since being teamed up with this horse is now doing very well. He gave the horse a good run and he had every chance coming to the last and rode for the win, but this was not to be his year. With so many good jockeys around these days it is hard for a jockey to get good rides but with over three hundred rides last year and win and place prize money of a quarter of a million ponds he works hard to get his results and it is great to see him connected to a really good horse. He should not be disappointed with his ride today and I'm sure he will be glad to get back next year.
Full List of Finishers
Finishers
1
Numbersixvalverde (IRE)
10
10-8
Mr O.P.B.Carroll
Martin Brassil
N P Madden
11/1
2
Hedgehunter (IRE)
10
11-12
Mr. Trevor Hemmings
W P Mullins
R Walsh
5/1J
3
Clan Royal (FR)
11
10-10
Mr. John P. McManus
Jonjo O´Neill
A P McCoy
5/1J
4
Nil Desperandum (IRE)
9
10-7
Mr.M.L.Shone
Ms F M Crowley
T P Treacy
33/1
5
Risk Accessor (IRE)
11
10-6
Mr.John P.McManus
Jonjo O´Neill
N Fehily
66/1
6
Puntal (FR)
10
10-12
Mr. Terry Niell
M C Pipe
B J Geraghty
66/1
7
Joes Edge (IRE)
9
10-10
Chemipetro Ltd
Ferdy Murphy
D N Russell
20/1
8
Inca Trail (IRE)
10
10-9
Halewood International
D McCain
B Harding
40/1
9
Forest Gunner
12
10-10
Mr. John Gilsenan
R Ford
Miss N Carberry
33/1
1st Fence
F
Royal Auclair (FR)
9
11-12
Mr Clive D Smith
P F Nicholls
Christian Williams
33/1
F
Innox (FR)
10
10-13
Mr.John P.McManus
F Doumen
R Thornton
10/1
UR
Whispered Secret (GER)
7
10-12
David Mannasseh and Dan Levine
M C Pipe
R Greene
100/1
F
Juveigneur (FR)
9
10-9
Mr. Trevor Hemmings
N J Henderson
M A Fitzgerald
25/1
F
Tyneandthyneagain
11
10-7
Mr. J Howard Johnson
J Howard Johnson
P Buchanan
100/1
2nd Fence
All Jumped
3rd Fence
UR
Baron Windrush
8
10-7
The Double Octogan Partnership
N A Twiston Davies
C Llewellyn
66/1
4th Fence
F
Ross Comm
10
10-5
Mr. Kevin G. Teanor
Mrs S J Smith
D Elsworth
16/1
5th Fence
F
Ebony Light (IRE)
10
10-10
Mr Roger Bellamy
D McCain
Stephen J Craine
50/1
6th Fence
F
Just In Debt (IRE)
10
10-4
Mr. J W. Hazeldean
M Todhunter
A Dempsey
50/1
7th Fence
All Jumped
8th Fence
UR
Le Duc (FR)
7
10-10
Green / Rose / Cowell
P F Nicholls
J E Moore
33/1
9th Fence
All Jumped
10th Fence
All Jumped
11th Fence
All Jumped
12th Fence
All Jumped
13th Fence
All Jumped
14th Fence
All Jumped
15th Fence
F
Silver Birch (IRE)
9
10-12
P.K.Barber and D.J.Nichols
P F Nicholls
S Thomas
40/1
UR
Jack High (IRE)
11
10-7
Mr B.Ross, M.Mcshane, D.Montgomery, W.Moore
T M Walsh
D J Casey
9/1
UR
Heros Collonges (FR)
11
10-7
Merchant Rentals Plc
P F Nicholls
J P McNamara
66/1
16th Fence
PU
Lord Of Illusion (IRE)
9
10-11
Mr.P.J.Kennedy
T R George
J M Maguire
33/1
PU
Garvivonnian (IRE)
11
10-8
Mrs A.Long
Edward P Mitchell
G Cotter
11/1
PU
Iris Royal (FR)
10
10-6
Sir Robet Ogden
N J Henderson
M Foley
100/1
17th Fence
PU
Shotgun Willy (IRE)
12
10-5
Alder Hey 'Imagine' Appeal
R C Guest
A Tinkler
33/1
18th Fence
PU
Le Roi Miguel (FR)
8
11-7
Green / Rose / Cowell
P F Nicholls
L Heard
150/1
PU
Cornish Rebel (IRE)
9
11-9
Mr.C.G.Roach
P F Nicholls
J Tizzard
22/1
PU
Direct Access (IRE)
11
10-6
The Direct Access Partnership
N G Richards
A Dobbin
25/1
19th Fence
PU
Amberleigh House (IRE)
14
10-9
Halewood International
D McCain
G Lee
50/1
20th Fence
F
Haut De Gamme (FR)
11
10-7
The Haut De Gamme Partnership
Ferdy Murphy
K J Mercer
25/1
21st Fence
All Jumped
22nd Fence
F
Sir Oj (IRE)
9
10-10
Mr.Brian Keenan
Noel Meade
P Carberry
33/1
23rd Fence
UR
First Gold (FR)
13
10-10
Mr. J.P McManus
F Doumen
R McGrath
100/1
24th Fence
All Jumped
25th Fence
F
Ballycassidy (IRE)
10
10-9
R.Owen and P.Fullagar
P Bowen
L Aspell
80/1
26th Fence
REF
Native Upmanship (IRE)
13
11-0
Mrs John Magnier
A L T Moore
C O´Dwyer
100/1
PU
Therealbandit (IRE)
9
11-9
Mr. D.A.Johnson
M C Pipe
R Johnson
50/1
PU
Iznogoud (FR)
10
10-8
The County Stores and Avalon Surfacing
M C Pipe
T Scudamore
200/1
PU
Colnel Rayburn (IRE)
10
10-6
Thatch (Ferns) Racing Syndicate
Paul Nolan
J L Cullen
50/1
27th Fence
PU
It Takes Time (IRE)
12
11-8
Mr.D.A.Johnson
M C Pipe
T J Murphy
50/1
REF
Rince Ri (IRE)
13
10-12
Mr.F.M.Moriarty
T M Walsh
Andrew J McNamara
100/1
28th Fence
All Jumped
29th Fence
All Jumped
Last Fence
All Jumped