Grand National 1998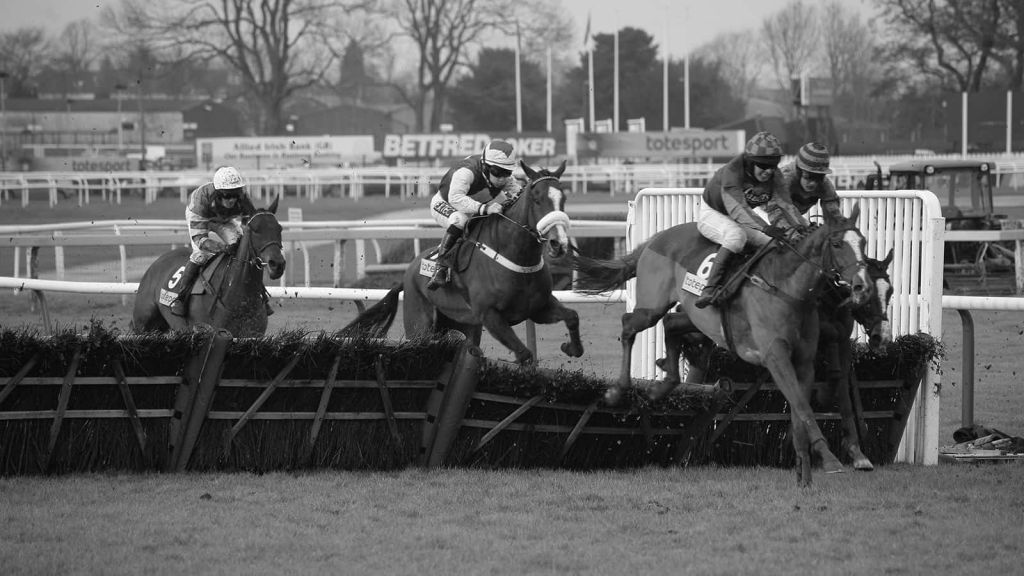 Winner Comments
Earth Summit
Earth summit is a bay gelding by Celtic Cone (sire) and out of Win Green Hill (dam). he is owned by The summit partnership and is trained in Cheltenham by Nigel Twisten-Davies (and P.Scudermore as assistant trainer). His regular jockey is Tom Jenks, who rode him to win the Welsh National earlier in the season unluckily he has a broken leg and therefore was replaced by 'super sub' or 'Jamey it' as he is said to have called himself Carl Llewellyn. Of course Tom was in the paddock beforehand to give advice to Carl but as he has been around this course a few times and also won this race in the past it would have only been on the idiosyncrasies of the horse and not the problems of the track. Earth Summit likes cut in the ground, however he won the 1994 Scottish National on good ground when only a novice and it would seem that an extreme distance is a must for him and 3 miles would seem to be his very shortest trip. The winning of this race was the culmination of a dream of the owning partnership who's main voice is Mr.Payne who after buying the horse for 5,800 gns at auction and seeing his progress dreamed of what a lot of owners dream Winning the Worlds Greatest Steeplechase. In fact Mr.Payne had backed the horse to win the race by the Year 2000 at a price of 33/1 with a major bookmaker. However even he must have had grave doubt's after the horse injured himself at Haydock Park in 1996 and they were told by the racecourse vet that he would probably never race again.He was found to have ripped his suspensory ligament and spent 6 months in his box at Mr. Twiston-Davies yard and then was exercised by walking around by Marcella Bayliss (the horses lass). It is remarkable that he is now the only horse to win the Scottish,Welsh and English Nationals. It would be good if he could go for the Irish equivalent in the future but as this comes so close to the Aintree race he would have to have had some setback or fast ground at Liverpool for him to sidestep the National and go over for the Irish Race. We should not forget that Earth Summit is only 10 yrs old and could go on to run in two more Nationals with a good chance of winning again if the ground turned up soft and he did not have too much weight to carry, He will certainly never have 10st 5lbs to carry again.
Carl Llewellyn
The Welsh jockey who has now won the Great Race on two occasions and on both rides he was substituting for an injured colleague. He won the race in 1992 with Party Politics a Giant of a horse and rode a perfect ride on that day. This year he did it again he gave the horse a great race and stayed cool though out the race, He later said that the horse only made one mistake at the open ditch on the second circuit (fence 19) . His record in the National is up and down having fell twice in 1998 and 1996 on Kumbi and Party Politics and been unseated twice in 1989 and 1995 on Smart Tar and Young Hustler. However he did finish 3rd last year on Camelot Knight He is a very good rider and has had a host of winners for Nigel Twiston-Davies.
Nigel Twiston-Davies
the man who never gives interviews Took out a full trainers license in 1989, He is a Welsh born trainer who's yard is in Naunton which is the Cotswolds has the ex-chamption N/H jockey Peter Scudermore as his assistant/Partner in his yard. Carl Llewellyn once said of him " There is not a horse that Nigel can't train, He's good with them all ". He is a trainer with a good past training record and it should get even better in the future.
Second Place
Suny Bay
Suny bay the best horse to run in the national this year and hence his top weight is turning out to be the nearly horse finishing second this year after finishing in the same position last year. If you compare both runnings they were very good for different reasons. Last years ground was too firm for the horse and his jockey on that occasion (Jamie Osborne) said that he thought that the horse did not quite get the trip in the ground. This years race was something different as the horse was held up and did get the trip but was burdened with 12st. Nobody could doubt that with the 10st 3lbs he got last year he would have won easily this year. Charlie Brookes his trainer got the horse spot on for the race again and Graham Bradley gave him a perfect ride running up the inside and taking the shortest route around the track and then improved from the 22nd fence on the second circuit (Bechers) and stayed on to go a long way clear of the rest with the winner. The winner put up a great performance as any horse has to win,But remember he only beat Suny Bay by 11 lengths but there was a distance back to the tired horse so this was some performance giving 23lbs to the winner and 2 stone to the other finishers. In future lists of the grand nationals only the winner may be written in. but the national is a race where we also remember brave placed horses like Richard Pitman on Crisp coming second to Red Rum and also his son Mark after winning the gold cup on Garrison Savannah Just missing out on the double by being beaten on the run in by Seagram . Suny Bay will be remembered in this way, Or will he? He is only 10 years old and may have two more cracks at this race, Horses who win the race and come back often get much more weight after and if the ground turns out soft again and he can get in with a racing weight because of the entry of earth summit then he may have a chance. I like many others don't like to see horses run with a top weight of 12 st even if it keeps more horses in the handicap. So in conclusion raise your hat to a great horse who ran his heart out and while his connections must be proud of him I leave the last words to Brad "That was one of the all-time weight carrying performances".
Charlie Brookes
Having taken over the reins at Uplands following Fred Winter's retirement in 1989, Charlie Brookes has had some success at the game and has recently revised some of his training methods. As well as training he also like to summarise on Radio five and can be found giving his comment on big N/H race days. He usually has horses running at the festival but he loves The Grand National Meeting as the show piece of the year. And also has his Friend G.Bradley ridding for him regularly
Graham Bradley
'Brad' as he is known has a poor record in the Grand National as in 11 previous runs he has only finished once ( 15th in 1990 ) , But is a jockey who has good wins behind him, Probably the one that springs to mind is his win on Collier Bay in the Champion Hurdle. He always is a good man to have in the saddle if you are betting his mount and does not lose races he should win. He always has a good celebration when he wins but always shows good sportsmanship when he doesn't. A nice man a great jockey and a good sport.
Third Place
Samlee
This horse is one of the plodding stayers, He ran well held up for much of the race however he did make a bad mistake at the 10th fence but had one of the best jockeys to ride this race on board in Richard Dunwoody who kept the horse up to his work, However it was clear from a long way out that he would not win. He stayed on well in ground that suits him. And may had won the race if they had to go around again. I must make it clear now that I like this horse and I think if his trainer (Phillip Hobbs) could get a little more speed into him I would fancy him to run well again in this race. He is a good horse to have on your side in long chases and I think he may well add another big prize to his total next year. We should not forget this horse won the Beacher chase here last November and also ran a good third in the Welsh National in December. He has also ran a good second in the Scottish National so maybe he does not have to improve too much to pick up more good prizes.
Philip Hobbs
Philip Hobbs Philip Hobbs started training on his father's rented farm outside Bilbrook in Somerset and started with a small string but now, with 80 inmates it is one of the largest National Hunt strings in Britain, His Brother used to ride for him until he gave up the game and he now often employs the services of Richard Dunwoody and I think this will up his strike rate in the next year or so.
Richard Dunwoody
The best rider in the country and is a previous Champion jockey when retained by Martin Pipe, but has been doing a lot of riding in Ireland this season. has a good record in all races but especially in the National and has won twice (Minnehomma and West Tip) has also been 2nd and 4th twice so he runs the course well. He always gets good rides in the major races both here and in Ireland.
Fourth Place
St Melion Fairway
Started by winning two bumpers and Progressed to be highly a rated noivice in 95/96 and has had a hard time with the handicapper since, however he ran a cracker of a race when he badly blundered the 22nd fence and struggled to stay on from then. Ridden by A Thornton and Trained by P.R.Webber I think he ran up to his form and better than his reasent form got a little left behind by samlee on the run in but only got beat by 1 ¼ lths from him and that is no discrace another who may be comming back to himself and again at 9 will be competeing for some good races next year. A very creditable fourth to add to his form.
Full List of Finishers
Finishers
1st
Earth Summit
10 10 05
N.A. Twiston Davies
C. Llewellyn
2nd
Suny Bay
9 12 00
Uplands bloodstock
C.Brookes
G.Bradley
3rd
Samlee
9 10 00
White lion Partnership
P.J. Hobbs
R. Dunwoody
4th
St Melion Fairway
9 10 00
St. Mellion Estates Ltd
P.R. Webber
A. Thornton
5th
Gimme Five
11 10 00


E.J. OGrady
K. Whealan
6th
Kileshin
12 10 00


H.J. Manners
S. Curren
First Fence
FELL
Banjo
8 10 00
Darren C. Mercer
D. Nicholson
R. Johnson
FELL
Diwalli Dancer
8 10 00
B.E. Case
M.C.Pipe
R. Thornton
FELL
What a Hand
10 10 00
J. McCarthy
P.F. Nichols
C.Maude
FELL
Challenger Du Luc
8 11 03


M.C.Pipe
A.P. McCoy
FELL
Pashto
11 10 00
R.Tooth
N.J. Henderson
J.R. Kavanagh
2nd Fence
All jumped
3rd Fence
FELL
Fabricator
12 10 00
J. Clements
A.M. Naughton
J. Supple
4th Fence
FELL
Do rightly
9 10 00
J.M. Fitzpatrick
M. Bradstock
P. Holley
5th Fence
FELL
Celtic Abbey
10 10 00


C Deuters
N. Williamson
FELL
Griffins Bar
10 10 00
M.S.Smith
P.Sly
G. Torney
6th Fence
FELL
Choisty
8 10 00
A. Swinbank
H.E. Haynes
R. McGrath
FELL
Court Melody
10 10 00
M.Coburn
P.F. Nicholls
T.J. Murphy
7th fence ( foinavon )
All Jumped
8th Fence ( Canal Turn )
All Jumped
9th Fence ( Valentines Brook )
UR
Dun Belle
9 10 00
A. Connolly
P.A.Fahy
T.P. Traecy
10th Fence
All jumped
11th Fence
REF
Damas
7 10 00
F.G. Wilson
M.C.Pipe
J.Evans
UR
General Crack
9 10 00
S.Lilley
P.F. Nicholls
Mr J Tizzard
PU
Nahthen Lad
9 10 00
J.Shaw
J.Pitman
R. Farrant
12th Fence
All Jumped
13th fence
All jumped
14th Fence
PU
Pond House
9 10 00
C.R.Fleet
M.C.Pipe
T. Dascombe
PU
Maple Dancer
12 10 00
I.R.Shenkin
D.L. Williams
G. Shenkin
15th Fence ( The Chair )
PU
Joe White
12 10 00
E.A. Rhodes
J.Howard Johnson
Mr. T McCarthy
16th Fence ( Water Jump )
All jumped
17th Fence
PU
Into The Red
14 10 00
E Saunders
M.Reveley
D.Gallagher
PU
Hillwalk
12 10 00
M.L. Stone
R.Curtis
Mr.R Wakley
PU
Radical Choice
9 10 00
G.A. Charlton
J.I.A. Charlton
B.Story
PU
Go Universal
10 10 00
Universal Confrence ltd
N.T. Chance
Mr. S Durack
18th Fence
All jumped
19th Fence
PU
Yeoman Warrior
11 10 00
H.Allwen
R.Rowe
R.Guest
20th fence
All jumped
21st Fence
PU
Winter Belle
10 10 00
M.W. Bird
J Howard Johnson
Mr. C.Bonner
22nd fence ( Bechers Brook )
All jumped
23rd fence ( foinavon )
All Jumped
24th fence ( Canal Turn )
UR
Brave Hilander
10 10 00
N J Embiricos
J T Gifford
P.Hide
25th fence ( Valantines Brook )
All jumped
26th fence
FELL
Ciel De Brion
8 10 00
H De Pracomtal
F.Douman
T.Douman
UR
Scotton Banks
9 10 7
L.Bray
T.D. Easterby
L.Wyer
27th fence
UR
Greenhill Tareaway
10 10 00
S.Giannini
P.J.Hobbs
S.McNiell
PU
Decyborg
7 10 00
T.Neill
M.C.Pipe
P. Carberry
REF
Him Of Praise
8 10 00
M.G.Quinton
O. Sherwood
C.F.Swan
28th fence
All jumped
29th fence
PU
Rough Quest
12 11 4
T.A. Waites
T.Casey
M.A. Fitzgerald
30th fence ( final fence )
All jumped