Gatwick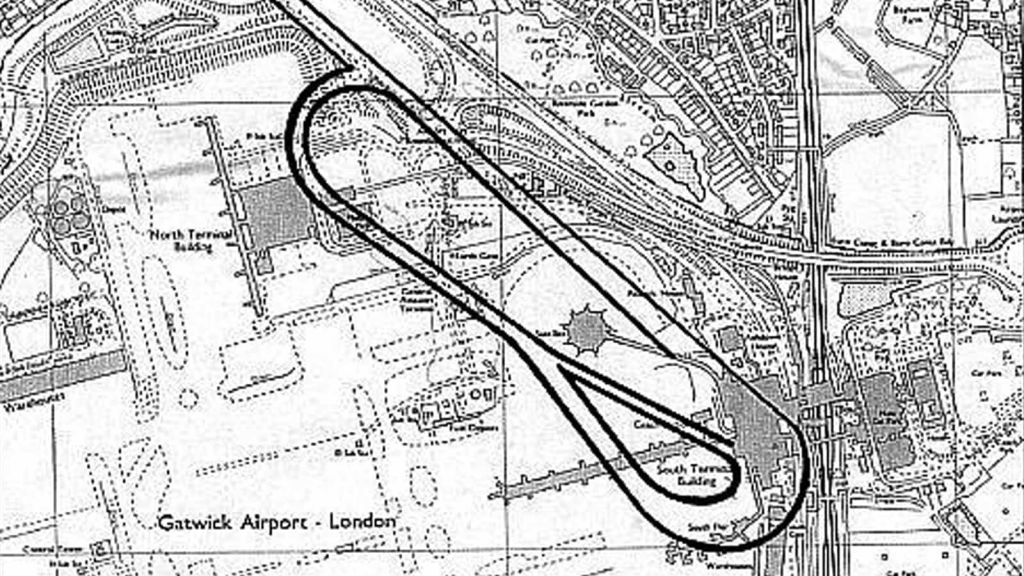 Since 1839 the world's greatest steeplechase has been held away from Aintree racecourse on three occasions and that was during the First World War.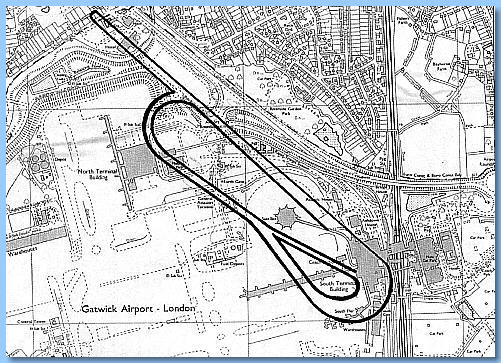 After the race had been held in 1915, Aintree racecourse was taken over by the war office, and it was impossible to hold the race there, so an alternative had to be found and the place that was eventually decided on was many of hundreds of miles to the south of the Liverpool venue, and after some discussions the racecourse that stood on the ground where the Airport now stands in Gatwick was chosen. You can see the course overlaid onto the map of the area above. Gatwick racecourse was opened in 1891 and staged racing until it's demise in 1940. and the current Airport was the constructed in 1950.
A special course was constructed at the Gatwick course and the 29 fences were constructed under the supervision of five leading jumps trainers but they were not to be of the same difficulty as the fences at Aintree. The course was to be the same distance as the Grand National of 4 miles and 856 yards. The 1916 race was actually not named The Grand National but was called " The Racecourse Association Steeple chase, and despite the travelling restrictions that were in place at the time the event was well attended. The prize money put up for the event was very good with the winner receiving 500 gold sovereigns, So on March the 24th the 1916 race was held. There were 21 runners and there was only one faller in the race and the race was won by Vermouth trained by James Bell and ridden by Jack Reardon.
The following years race was renamed The War Steeplechase and the fences were stiffened up so that it was a better test of jumping. It was not all plain sailing for this event however as the race was in doubt as early in the afternoon there was a snowstorm but it did subside and the weather improved so that the race was able to go ahead. The winner was Ballymacad who was trained by Aubrey Hastings and was ridden by Edmund Driscoll.
It was noticeable that the owners of the 1915 and 1916 races gave away the prize money to the home for blinded soldiers.
The final ' National ' to be held at Gatwick was in 1917, and by now the race was becoming established and the winner was Poethlyn, he was ridden by Ernie Piggott the grand father of the very well known jockey Lester Piggott. The 1917 race turned out to be a good race as many of the horses that ran that year went on to run well in the next few years races. The winner Poethlyn went on to win again in 1919 with the horse that finished in ninth place, Shaun Spadah won the 1921 running and also one of the fallers Sergeant Murphy went on and won the 1923 running of the race. To pick your bets for this years race, take a look through our full list of grand national runners